Liberia: The White City
Liberia was founded as a hermitage on September 4, 1769. The hermitage was used primarily as a resting place for travelers. The giant trees of this region, popularly called "Guanacaste Trees" (Enterolobium cyclocarpum), provided shade for travelers and cattle!
Liberia is the most important regional center of Northwest Costa Rica. The center of the city has a modern church. In front of of the church is a park surrounded by shops and restaurants you can visit and explore.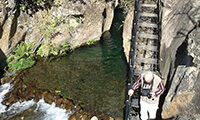 The climate of this area is hot and dry from November to May and humid from late May to early November, with heavy rains in September and October. This region has an average annual temperature of 27ºC and historical extremes are 12.8ºC and 40.1ºC (55ºF-104ºF). The main attractions in the area are in proximity to beaches and mountains that have numerous hotels for all types of tourists and budgets. Places like the Gulf of Papagayo, Rincon de la Vieja Volcano, Coco Beaches, Ocotal Beach, Buena Vista Lodge, and Panama Beach are some examples.
The Daniel Oduber Quirós International Airport is located six kilometers (~4 miles) west of the city, following the road to Nicoya. The opening of its International Airport has made Liberia the main tourist access to the province and has allowed important airlines (American Airlines, Grupo Taca, Copa, Martinair) and hotel chains (Four Seasons, Hilton, Allegro Papagayo , Melia, Barceló) to open operations here! Important companies of High Technology (Astra Rocket) and prestigious Universities (University of Costa Rica, National University, Earth La Flor, etc) have also been found here!
---