Manuel Antonio / Quepos
Manuel Antonio is a small coastal town, with many places to visit and enjoy with the family. Famous for its national park, this cheerful little town is located on the central Pacific coast of Costa Rica! It is a treasure trove of biodiversity that attracts nature lovers, eco-travelers and adventurers alike. Visitors will enjoy white sands and perfect waters. Without a doubt, Manuel Antonio is located in one of the most famous places in the country.
Manuel Antonio National Park
The Manuel Antonio National Park is one of the most popular parks in Costa Rica! It is often considered one of the most biodiverse parks in the world. Occupying several natural habits, this jewel has more than 109 different species of mammals and 184 species of birds. You can spot white-faced and howler monkeys, two-toed sloths and the endangered squirrel monkey. Its four beaches are perfect for snorkeling, swimming and sunbathing. For visitors, there are great variety of well-marked trails to explore all the flora and fauna.
Rafting in Manuel Antonio
Enjoy a real rafting adventure designed for the whole family in Manuel Antonio. Enjoy floating and white water action on one of Central America's cleanest rivers. This river tour has class II-III rapids for a smooth ride with some thrilling rapids! This half day tour shows the beauty of Costa Rica from the best point view right on the water!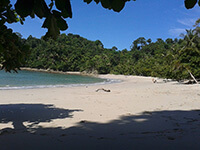 After a safety talk and instruction for children, we start the rapids and stop at the river bank for a refreshing snack of fruit and fresh cookies before continuing our journey down the river. Near the end, we will travel through rapids before the river begins its descent. You will have plenty of time to relax, observe the abundant flora and fauna on the way down the river.
Surf Lessons in the Pacific
Can you think of a better place to learn surfing in Costa Rica than in the outskirts of Manuel Antonio National Park? Even if you never had the opportunity to surf, we guarantee that after our guides give you the surf lessons, you will catch many waves!We will help you to make your dream come true in our Surfing Classes in Manuel Antonio. After arriving at the beach , you will want to start with your beginner surf lessons.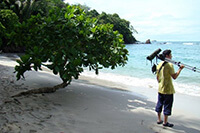 You will enter the water with your instructor, who is always close to you to make sure you are safe. Using your newly obtained surfing techniques, you have the following hours to perfect your surfing skills. We know that your surf lessons in Manuel Antonio will be the gateway to the wonderful world of surfing, something you will never forget.
Once you feel exhausted from practicing, you can rest on the beach under our umbrellas and drink some water and fruit before returning to your lodging, with wonderful memories of a day full of fun under the Costa Rican sun. So why wait?
---