Alajuela
Alajuela is home to a variety of attractions. The province is the site of one of the most beautiful mountain ranges, the Cordillera Central, in addition to several volcanic national parks. Travelers seeking a cultural experience will also enjoy this region.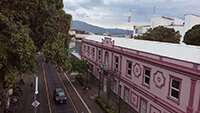 Best of all, Alajuela is home to the Juan Santamaria International Airport, which provides flights to both domestic and international destinations. The airport makes it easier for travelers to come and go from the most remote tourist places. The city is very well located within easy reach of the main attractions of the province, and has many tour groups and cultural services. Locals and visitors gather to buy fresh produce, handicraft items and listen to local music. It is a great way for people to experience the true Costa Rican lifestyle.
Zoo Ave
Zoo Ave is home to a great diversity of monkeys, felines and other animals native to Costa Rica!It is known for hosting more than 100 different species of lovely birds. This park is always exciting, with various animal plummage, colors and skin! And it is sharpened by the beautiful sound of the unique voice of each species.
Zoo Ave is a great place to learn more about Costa Rica's native wildlife. The park's primary mission is to raise animals that can be reintroduced into the wild. With such a large mission, you know that your admission fee goes towards something worthwhile!
Poas Volcano National Park
The Poas Volcano is imposing; simply magnificent. Extending to the skies at 8,885 meters high, Poas is one of the most active volcanoes in the country! The main crater is over one kilometer in diameter and descends about 1,000 feet. In addition to the area around the main crater, the park has dense vegetation and is an ideal place for travelers to observe and learn about wildlife. There are also several different living areas, through clouds and tropical mountain forest.
---