Our family of five (with kids: 17, 15, 13) just got back from a most wonderful, week-long, trip to Costa Rica, over Christmas break. Jose, was an amazing guide and driver! He helped us to explore and discover the true beauty of the country, away from the typical touristy areas. He took us to hidden waterfall treasures that only the locals would know about. The hikes through the rain forests were breathtaking! The whole family enjoyed zip-lining over the canopy, jumping into waterfalls, hiking to the cloud forest, bathing in the mud pools, and much more! Jose was very kind and fun with our children and always made sure we were absolutely happy. Jose, who speaks perfect English, is very knowledgeable and was excited to teach us all about his country. Because Jose took care of all of the logistics (travel, lodging, where to eat, etc.), we could just sit back and enjoy the trip! We look forward to another trip to Costa Rica, with Jose as our guide, of course!!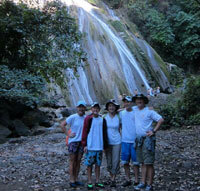 ---
Our family just returned from an amazing week in Costa Rica. Jose' was recommended to us by my sister, and touring with him was the best decision we could have made. I can say without hesitation that we would not have been able to experience the "real" Costa Rica without his expertise. He was so knowledgable and so passionate about his country, and it made our experience all the better. My kids loved him and learned so much! We can't wait to go back and we will definitely be calling Jose' again! We can't recommend him enough! Lisa S.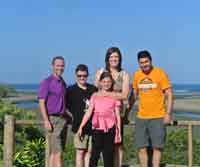 I cannot overstate how wonderful Jose is, as a person and as a guide. I had been to Costa Rica several times without a guide service, but at the suggestion of a colleague, contracted with Jose to guide our tropical biology field course. We traveled with Jose to eleven sites throughout the country and he handled all logistical issues (lodging, travel, etc.) seamlessly. For this alone I wouldn't hesitate to use him again. Furthermore his love of his country, skills as a naturalist, and local knowledge improved the course tremendously. Ostensibly I was one of our course instructors, but I (and our students) learned so much from Jose that he really deserves much of the credit for our students' success.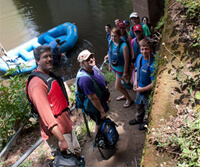 ---
I had traveled in Costa Rica several times before working with one of the guides of Costa Rica Adventures (CRA). One of those times, I used an internationally known organization that claimed to focus on educational experiences; I was disappointed in that other company, feeling like we did not visit a broad range of habitats nor see a diverse range of species. In contrast, CRA invested in our trip, showed us a great diversity of birds, mammals, reptiles, and plants, and was always willing to consider our questions and our ideas. In each of the three times I have taken a group to Costa Rica with CRA, I have seen new places, experienced the amazing diversity of plant and animal life that occurs in Costa Rica, and have been certain that I have chosen the right company to lead our tours.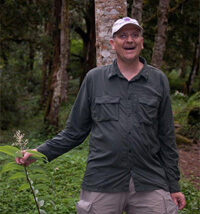 We had a fantastic tour around Costa Rica, made possible in the capable hands of Jose Pablo. He was knowledgeable, friendly, patient and kind. We were traveling with children ages 6, 8 and 10. Jose Pablo knew what they could manage, what they would find enjoyable, and how best to accommodate them. He was enthusiastic about teaching and showing all of us all the wonders of the country. He was a wealth of knowledge that he was happy to share...there was rarely a question that he didn't know the answer to. Jose Pablo was great about engaging the children, offering small rewards (chocolate!) for spotting a mammal, and setting his scope up to let us all get a better look at the various animals we saw. He was always aware of our safety; he would stay with our baggage in the car if need be while we took in a tourist sight, or he would delay stopping to look for an animal if it wasn't an appropriate area. We felt truly lucky to have such a fantastic guide...we don't feel that we would have had nearly the amazing experience without Jose Pablo.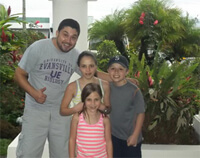 ---
We thoroughly enjoyed our 2 week trip to the beautiful country of Costa Rica and had never done a guided tour before so weren't sure what to expect. We could not have asked for better than Jose. He was so professional and personable and so much fun! His knowledge of the animals and birdlife was invaluable. We wouldn't have seen any wildlife without him! We traveled with our 2 young girls and he was great with them. He taught them some Spanish as well as kept them entertained on the drives and hikes. He became a part of our family! We have recommended him to our friends at home in Canada when they plan their trip, and our parents have already used him.