Coyote Beach
Quiet and peaceful, Coyote Beach is considered by many to be one of the best and most remote beaches in Costa Rica! This area is a perfect place to enjoy a long, restful vacation from the hustle and bustle of the city. This picturesque beach offers tourists incredible stalls and spectacular views of the Pacific Ocean. The waters here are perfect for swimming as the tide stays low most of the time.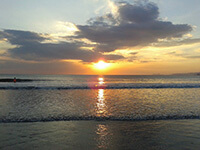 Coyote Beach is a pristine tropical paradise with a sandy, horseshoe shaped beach that is surrounded by tall palm trees. Here, many beautiful birds and monkeys can be observed along the seashore, making it a great place for birdwatchers!
Kayaking on Coyote Beach
If you like nature and kayaking, this is simply the best Coyote tour for you. Swim gently over the Coyote River through a pristine strip of mangrove swamp, which is part of Costa Rica's exciting rainforest. The Coyote River is the largest river in the area, and offers landscapes full of natural beauty.
Enjoy birdwatching for species such as herons, anhingas, pink spatulas, among other species, with the occasional visit of a group of howler monkeys.
The tour schedule depends on the tide and the activity lasts approximately 2 to 3 hours.
Surf lessons in Playa Coyote
When clients request a region in general to visit and learn how to surf, we are going to suggest a particular place: Playa Coyote. It is a special opportunity to make a stopover between destinations or the perfect beach to escape for a few days.
Our surf instructors are local, speak perfect English and Spanish, and have extensive experience giving surf lessons to people of all ages and genres. Classes are customized according to the client's needs, ability and time.
---