Sarapiquí
The dream destination for the adventurers
Sarapiquí is known throughout Costa Rica for its rich biodiversity, as well as being a dream destination of adventure seekers. It is now a very popular break area for families excited to discover the rainforest.
Sarapiquí is a rainforest, famous for its "turnos" or festivals that include fairs, rodeos and livestock exhibitions. Sarapiquí has now become a main ecotourism area by itself. If you visit this region, make a visit to the La Tirimbina Biological Reserve. This is one of the most diverse areas in Costa Rica and home to a great biodiversity of flora and fauna.
Reserva Biológica La Tirimbina
Reserva Bilógica La Tirimbina is located between the rainforest and grandiose rivers of the northern region of Costa Rica. La Tirimbina is a site for education, ecotourism and research, which highlight the beauty of the rainforest in conjunction with conservation.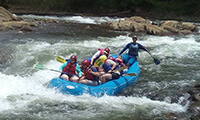 The Tirimbina is known for its impressive bird watching! You will have the opportunity to know all of great bird species that make this place their home. With the help of your experienced guide, you can learn about all of the more common species of birds that live in the Sarapiquí Region. This área alone represents more than 54% of the bird species found throughout the national territory.
Also, this región has a large diversity of bats. The popular white bat (Ectophylla alba), could be observed roosting during the day in their leaf tents or seen flying around catching insects at night.
Come and explore the trails, discover its flora and fauna, walk the hanging bridges or taste the secrets of cocoa through the popular chocolate tour.
The Most Famous Rapids in the Country: Rafting on the Sarapiquí River
The real family adventure begins with your rafting tour on the Sarapiquí River! You can choose what category of rapids you can enjoy with your family. It is simply the best adrenaline pumping experience! The full tour lasts about two hours and takes you along a beautiful stretch of the river! There are many excellent rapids to ride through with different picturesque locations!
This is a special tour for those who do rafting for the first time. For those who are looking for a family rafting challenge, there are rafting instructors that would accomapny you through any rapids.
Boat tour: Live an intense safari in a gallery forest
The area of Sarapiquí presents a great wealth of fauna thanks to its geographical location and rivers. Around these rivers, you will be able to observe a variety of wild animals while you paddle along with your family through the gallery forest. The banks of the rivers are a perfect place to observe nature, birds, the forest and animals such as iguanas, monkeys and crocodiles.
You can paddle on your own or we can provide you with a guide who will do all the rowing work for you, while you relax and enjoy with your binoculars and camera.
---